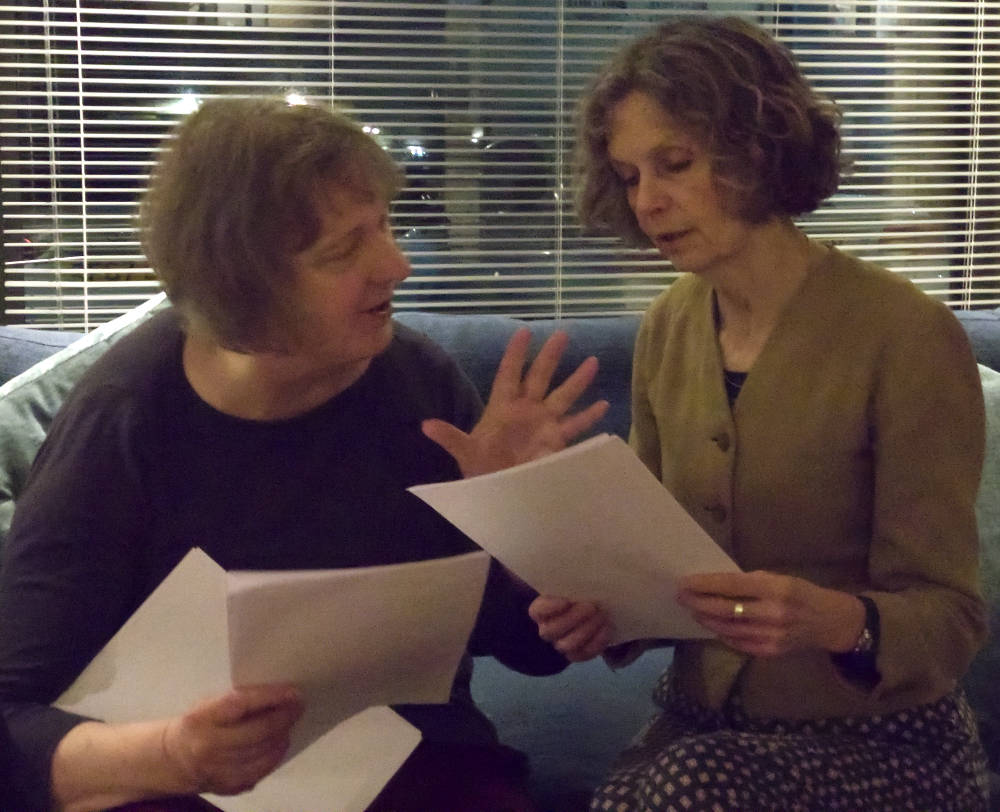 JO

Hans Christian Andersen said when he was a boy he was tall and ugly with big feet, a big nose and clothes that were always too small. But even though he was ridiculed, deep down he knew he was special.
MARIA

He said The Ugly Duckling was a reflection of his own life.
JO

I recognise feeling like that. When I was a boy I didn't feel like a boy and this was terrifying. I had very few friends. But I knew I was a writer and this secret knowledge helped me keep going.
MARIA

He rejected his mother. I'm glad we've given Mother Duck a chance to say how she feels.
JO

My Mother would have liked me to be a girl. I loved wearing girls' clothes in plays and felt more like myself. Hans Christian Andersen wrote about his femininity when such feelings could not be openly expressed.
MARIA

This is a story of transformation, of becoming oneself.
JO

Yes, it's like my own life.
MARIA

And we are all transforming all the time.
MARIA

And there's the Old Woman. Oh dear. She is really bitter. Stuck. Older women generally come out badly in folk tales.
JO

We did try to redeem her.
MARIA

Turned out she's irredeemable. Some stories resist being changed. They are older than all of us.
JO

And we're getting on a bit.
MARIA

And so the world turns.
JO

The story takes place over a year and we have written it over a year while the world has gone to hell.
MARIA

And Nature has resolutely rolled out a whole cycle of seasons.
JO

And yet Nature is in crisis and the pandemic is a symptom of that.
MARIA

We have spent ages looking onto the Water of Leith.
JO

Watching the ducks and swans.
MARIA

Navigating the rubbish.
JO

We're not sure the best thing in life is to turn into a swan.
MARIA

A swan is whatever you want I suppose.
JO

That's not always easy to see.
MARIA

This is all a bit gloomy. Where are the funny bits?
JO

Oh, there are plenty of those.