Interview with Jo and Maria
We sent along some questions to the two stars of our show Jo Clifford and Maria MacDonell, who had a hoot interviewing each other.
Or read on for a transcript of their chat…
Estimated reading time: 6 minutes, 17 seconds. Contains 1259 words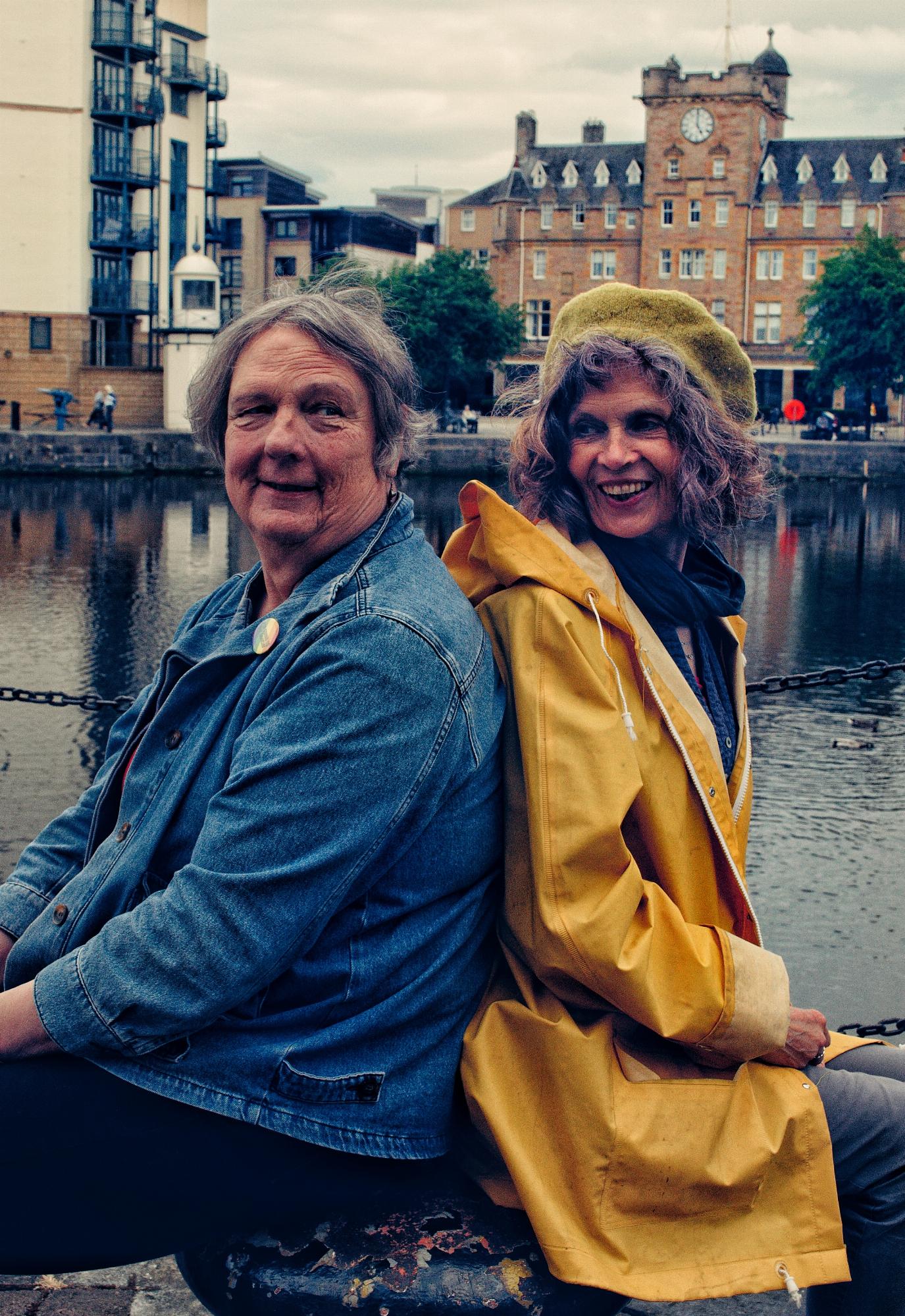 image description: Jo and Maria sitting back to back in front of the waters of Leith. Both are older white women who are smiling playfully. On the left, Jo has short grey hair and wears a blue denim jacket. On the right, Maria has curly grey hair and wears a green beret and yellow rain jacket. Behind them is a canal with buildings, trees and people on the other side.
~~~~~~~~~~~~~~~~~~~~~
What was it that drew you to the story of the Ugly Duckling and want to adapt it for an older audience?
Jo Clifford: Well, I wanted to be in a play where I was working with an older actress - because it's more fun if there's two of you on stage - and I wanted it to be based on a well-known story that would speak to lots and lots of people.
Maria McDonell: What drew me to the story of the ugly duckling is that you invited me, and that was a very fine thing, and I was attracted to it being a life story: Hans Christian Anderson's life story.
JC: It is in a way everybody's story, because everybody has spent a while feeling they don't fit in and suffered because of it, and everybody has the same struggle to try and become themselves that the ugly duckling has.
The show is dubbed 'A Play For Grown-Ups'. What do you think it is about this story that speaks particularly to an adult audience?
MM: Well Jo, we do explore some dark places in our discovery of what the ugly duckling means to us, and because we feel - as you said - that this story reflects so many aspects of any person's life.
JC: Well for instance, the fact that people have been bullied, that people have been rejected from being different, and all that happens to the ugly duckling in the story.
MM: it's about an accumulation of experiences, I think, that makes one an adult.
JC: Yes, all that!
What can audiences expect from the show?
MM: Laughter, delight, entertainment!
JC: A really good story that moves people, makes them laugh, and makes them think, because it's about something real and important.
How did you find writing something in collaboration?
MM: Oh well, it's been a hoot!
JC: It's been very funny! It's been a real pleasure. Well, for me anyway, because I've written lots of plays on my own, and when you write a play on your own, there is a moment where you get stuck, and then it's horrible trying to find your way back into the story again. But when there's two of you, you just - I don't know, you lie on the floor, you scream a bit, you get up, you walk about together, and usually, somebody has the answer.
MM: All kinds of unexpected things can happen in collaboration, and it's an unburdening, isn't it?
JC: Yeah, it's a beautiful thing, I loved it.
What is it about the Fringe that makes it such a unique festival?
JC: Well, way back in 1980 which is when I had my first festival show, what was amazing about it was that I had a play by a 17th century Spanish playwright that no-one had heard about. Me and my director, we both loved this man's work, and the fact that he'd been left a little bit of money by his auntie meant that we could put it on. It empowered us to put it on instead of having to go through all the gatekeepers that normally guard access to theatre. That was great, actually.
MM: It is difficult for many companies to bring their shows to Edinburgh. We are incredibly lucky to be performing in the place where we have developed and rehearsed this piece, in a theatre which is a permanent theatre. I think the fringe is going through a period of wondering what its future is, after the rocky past two years. It's just very exciting to be part of it, very very exciting!
JC: Exactly!
How does it feel coming to the festival as older artists?
JC: I think it's fab! It's really nice. I really only discovered that I could act and perform really in my mid to late 60s. And here I am in my early 70s, and I'm learning - what we did today in rehearsal, I never thought I'd be able to do!
MM: It was great, we unpicked a scene down to the tiniest details, and I find that absolutely magical, because when you put the pieces back together again, you get this beautiful flow which is part of the magic of theatre. And - what does it feel like coming to the festival as older artists? Well, it feels right! It can't just be a festival for young people!
JC: Of course not!
MM: And I feel we have a lot to give to it!
JC: Yes, and I think, as I get older anyway, I appreciate the gift of creativity more and more, and understand how important it is for life and for wellbeing.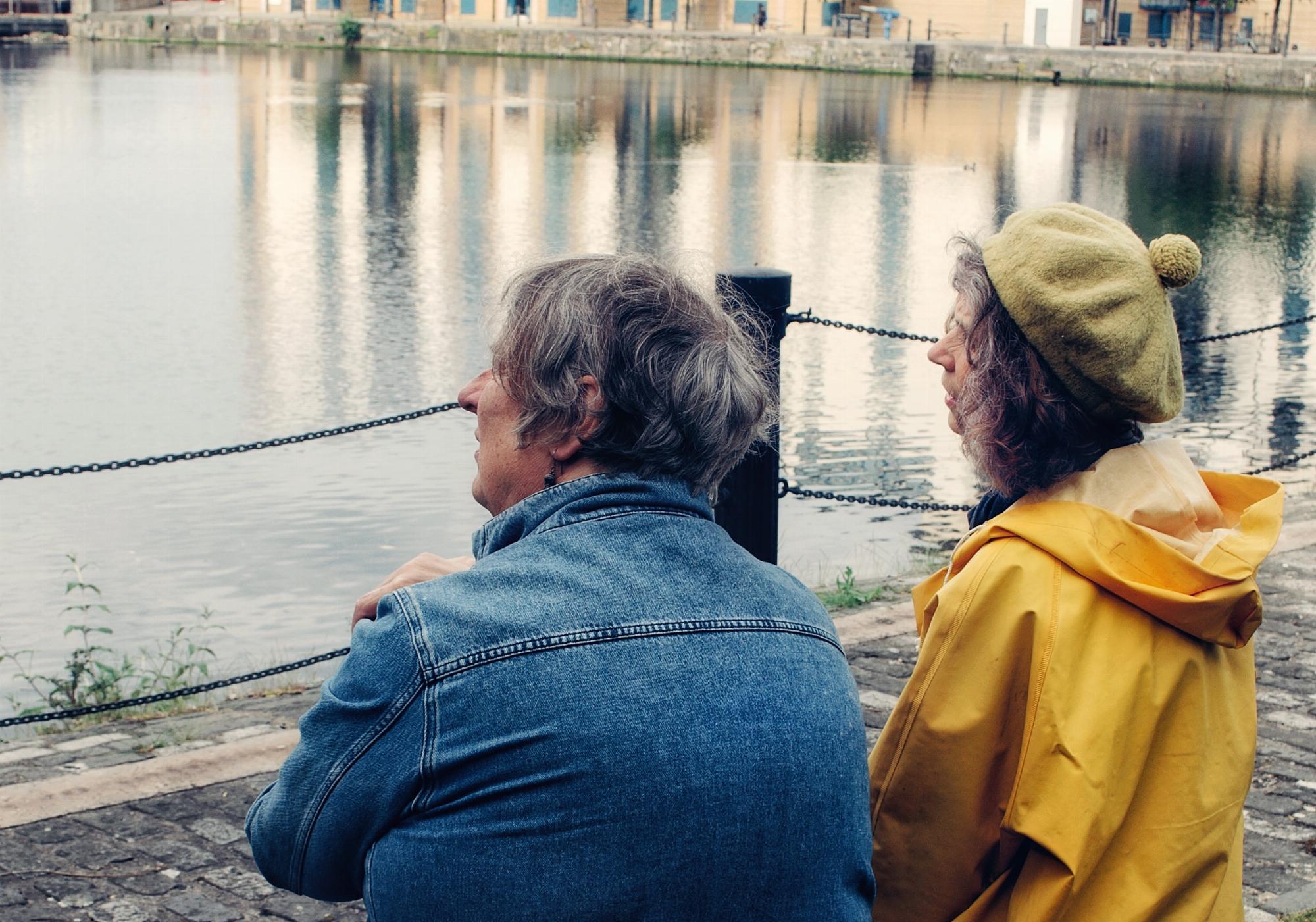 Image description: Jo and Maria sitting looking out at the waters of Leith. The water is still with buildings reflected in it. On the left, Jo has short grey hair and wears a blue denim jacket. On the right, Maria has curly grey hair and a green beret, and wears a yellow rain jacket. They look into the distance thoughtfully.
~~~~~~~~~~~~~~~~~~~~~
What other shows are you looking forward to seeing at the Fringe?
MM: that's a tricky one, Jo! I find it tricky.
JC: I am looking forward to a show called Miss Lindsey's secret, which is also at the storytelling centre, and is written and performed by an amazing writer called Maria MacDonell!
MM: Yes, that's me!
JC: Yes!
MM: so because I have eight Not So Ugly Duckling: A Play for Grownups; and thirteen Miss Lindsey's Secret, I am going to be busy most days. Covid is making me concerned about going to see other shows, and I feel very conflicted about that, because there are so many shows that I would like to see. It makes me even wish that there was no festival so that I could see each one of them! Which is complete nonsense!
JC: Well it's very very difficult, I find when I'm performing at the Fringe, because that takes up huge amounts of my energy. And going to see all the plays you want to see also takes up huge amounts of energy.
MM: I think what one hopes is that when a play comes to the Edinburgh Festival Fringe, it either already has a life or it's gaining a life. And that one becomes aware of it through its publicity or the talk on the street, and so you earmark it, that you will find it, you will find it at some point, somewhere.
JC: Yes.
And finally, what is your favourite duck?
JC: Well I love those ducks that come outside the window sometimes, I don't know what they're called, but they have a funny - they sort of laugh to each other.
MM: the eider ducks?
JC: those, yeah the eider ducks, they're very beautiful.
MM: well for me, the ducks that I'm familiar are muscovy ducks, and they're large, and they're mainly black and white with some extraordinary iridescent blue green feathers, they're almost goose in size and they do not come from Russia, they come from south America. And they're absolutely fascinating, and those are the ducks that I have lived with for some time, and that my children grew up around, and it is those ducks that I've had in mind along with your ducks, the water of Leith ducks, as we have written and developed this piece.
JC: Exactly! Thank you very much.
MM: Thank you so much Jo!
~~~~~~~~~~~~~~~~~~~~~